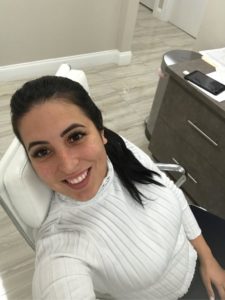 Gabrielle is a licensed aesthetician and certified medical aesthetician born in Paris – one of the beauty capitals of the world. She was raised in Rio de Janeiro, Brazil by her Paraguayan mother and French father. Gabrielle incorporates the finesse of Parisian and European technique for deep pore cleansing with ever-evolving technology and equipment from the United States, along with the latest aesthetic trends from South America. 
From a very young age, she has been fixated by skin care and the beauty industry, formulating her own masks and exploring natural ingredients and Brazilian facial techniques. 
Gaby obtained her aesthetician license in Miami. She continuous to explore new techniques as she attains additional certifications. Combining technology and equipment with nature's best ingredients and skin care products, she will brighten, tighten and restore skin to optimal health and glow with her custom-made facials which are progressive but never aggressive.
Gaby's personal studio provides tailored one-on-one services and delicious "me time." Sweet Skin by Gaby offers a temporary escape – a place where anyone can find oneness, harmony and wellbeing.